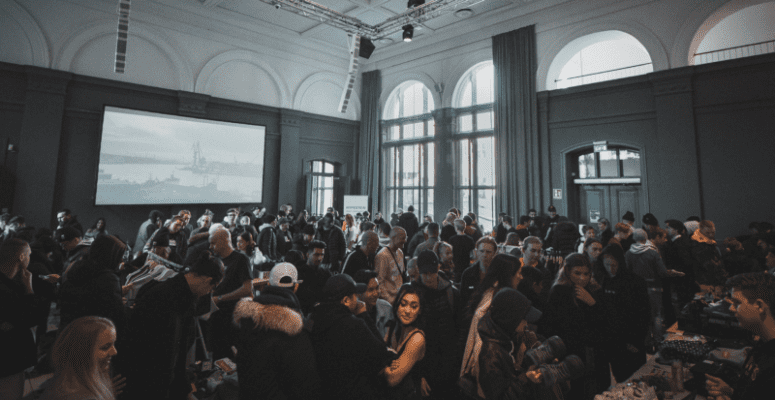 The interest of being in crypto arises from how others had made so much money in crypto investments that alarmed the world where traditional financial stocks could not. However, there are fanatics that believes that Blockchain can change the world, these are the ones that looked into technology advancements such as decentralized applications (DApps), Smart Contracts and various specific coding languages.
We noticed that the community is very diverse to the extend where if someone says they know about Crypto, most likely it is the very basic information on how to trade and make more money. Even the basics of making money in trading is somewhat different from traditional stocks trading, in cryptoworld, you have to understand the difference between a token and a coin, the variety of digital wallets, the type of exchanges and the fees involved — miners fee in every trade.
Taiwan's prosperity derived from manufacturing of electronic components somehow encouraged technology acceptance generation after generation. The hunger of technology is so strong that it lowers down the understanding gap of Blockchain and what crypto could offer.
Based on observation*, Taiwan's community consist of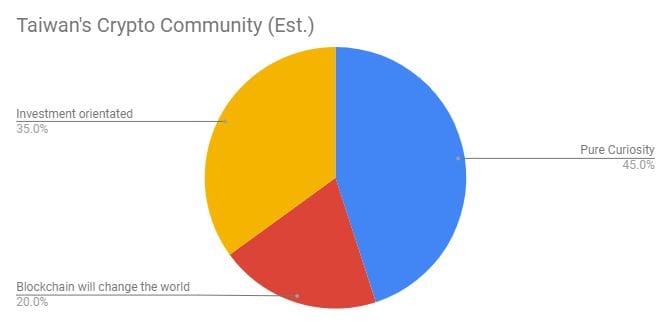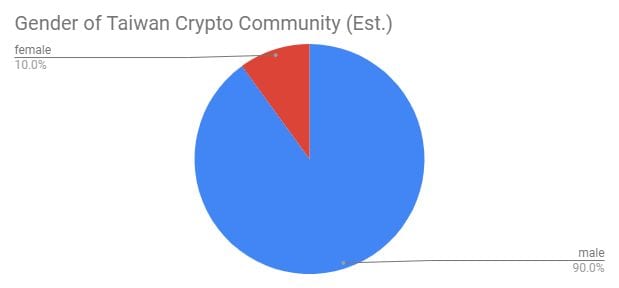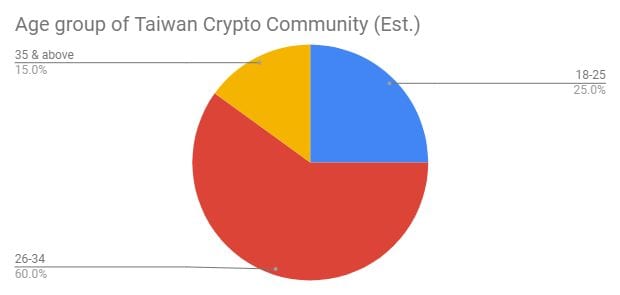 Taiwan, mainly in Taipei, has their own media agencies that mainly focus on featuring articles, sponsored or shared knowledge to the community. They had developed a network of crypto enthusiasts through their digital channels and hosted events. In a typical week, there are an average of at least four crypto events going around in various cafes, community spaces, etc covering topics from education, discussion of the future and investment strategies. These events normally receives overwhelming responses.
Aside from internal boom, recently we had noticed China crypto businesses are moving into Taiwan after the clamp down at home, but on the other hand, many countries reckon Taiwan is too small a market to venture to. Taiwan's government recently planned to vie with Singapore to be a Blockchain innovative country in Asia. Taking lead is our very first ever #cryptocongressman, title given by Vitalik Buterin, recently introduced his own token (One Crypto World) for voting purposes. He, Jason Hsu, was interviewed by Forbes on August 2018.
From our perspective, the understanding of crypto is catching fire in Taiwan despite the bearish market, opening minds to not just investment but also technology adoption for businesses. Taking flight on crypto locally as a payment for services are mainly in food businesses, Taipei have Bithub where they receive crypto for food and beverages purchase where as a bakery in Kaohsiung known as Coincake accepts BTC, LTC, ETH and XRP.
Whereas in other countries we see bigger scale adoption, Dubai taking lead with 20 possible government cases to utilise Blockchain technology to improve their operations, Austria issuing US$1.35bn government bonds via Ethereum while China's Bank of Communications issued US$1.3bn residential mortgage backed securities despite ongoing crackdown on crypto, I believe Taiwan will soon take flight in a large scale too.
In conclusion, from our experience and numbers, Taiwan is definitely a market worth exploring. Community are very receptive in learning new technology nonetheless investment strategies. The community is considered a cohesive tech savvy bunch where if they attended a good event, the brand will receive word of mouth promotion easily.
There is currently no statistical evidence indicating the segmentation of crypto community. Data presented is based on author's observation from attended events.
Article by Gerald, JOYSO
Cover Photo by Jakob Dalbjorn on Unsplash
---
JOYSO runs a hybrid decentralized exchange with over 100 tokens listed and develop DApps and smart contract projects on cross chain and Ethereum's chain. Started operation since May 2018, JOYSO developed an exchange for Nebulas, partnered with CoolBit X for their launch of CoolWallet S and the first to list GramGoldCoin (GGC), a gold pegged token for trade.
More about JOYSO, visit https://joyso.io/
or follow us on Telegram, Facebook, Twitter, Newsletter